NEW! NETWORK SCANNIING
WARNING: IF YOUR SITE IS FOUND TO BE INJECTED OR HAVE MALICIOUS MALWARE YOU COULD BE REMOVED FROM GOOGLE UNTIL YOU HAVE BEEN SECURED.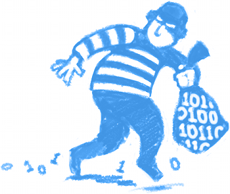 When users visit a web page, browsers like Chrome check the content that's loaded to see if any part of it is potentially dangerous. When it detects a problem, the browser shows a warning, alerting users that content from a site we've identified as being malicious is being loaded. In many cases, we'll also flag the original site as malicious, which alerts the webmaster and helps toprotect potential users.
There are situations where the currently viewed site is not flagged on our Safe Browsing list, but users still see a warning in the browser. In this case, that site may have attempted to load content from a different website, one that is known to contain malicious content. We call this a cross-site warning. In Chrome, this is denoted with a browser interstitial with the following graphic: